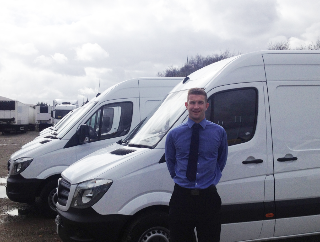 Ian Mellett (pictured in suit) has joined the company's Reading branch, with Jon Armstrong joining the Cardiff team. Mellett's previous work throughout the automotive sector spans 30 years, while Armstrong brings years of experience in the commercial vehicle sector, following a longstanding professional relationship with Dawsonrentals.
Ian Mellett commented: "I am looking to forge long lasting and trusted relationships with customers, both new and existing. It's exciting to come and work for a company that clearly values its employees and clients and is ready to expand."
Jon Armstrong added: "My main goal is to build the Cardiff base as a strong, sustainable branch for Dawsonrentals, particularly at a time when the company is establishing a strong and reputable brand in the fast-growing commercial vehicle industry."  
Commenting on the new appointments, Chris Beeton, head of sales at Dawsonrentals | vans, said: "At Dawsonrentals | vans we are committed to meeting customer needs, whether it be through everyday assistance with vehicle hire and supporting equipment, or through more advanced new services, as with the introduction of our Specialist Vehicle Division.
"We are currently promoting the nationwide recruitment of experienced and valuable management that can help progress our diverse offer and drive our standards even higher across all of our branches."