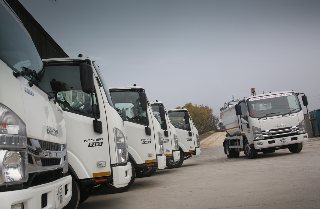 The weekly service, which goes live this month, will see 5,000 tonnes of food waste collected during the initial 12-month period. Once full, the vehicles will then unload at the council's transfer station before the food waste goes for onward shipment to the local AD (Anaerobic Digestion) plant in Cheltenham, where it will be processed and converted to gas power for the National Grid for use within the local area.
All six vehicles are based on the Isuzu Forward N75.150 Urban rigid chassis cab that has been specified with the Easyshift automatic gearbox. Each vehicle has an identical body, a Heil Farid Micro L body with a capacity of 5m3 and capable of handling EN standard bins from 120 litres to 1,100 litres capacity and food waste caddies or 'slave type' bins.
"We were well aware of the flexibility and payload advantages of the Isuzu trucks as they have an excellent reputation within the local authority marketplace. They are also extremely driver friendly and, of course, the small footprint of the trucks makes them ideally suited to our narrow local rural roads," said Carlos Novoth, Stroud District Council's public space manager.
"At the same time we talked to several other local authority users of Isuzus and they are all equally as impressed by the performance of their Isuzu vehicles, which gave us the strong positive feedback on which we could base our final decision," added Novoth.
are d base our final decision,""his month, will see restrictions. nment revisits its air quality plans.  implementing a year.