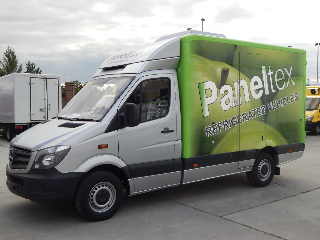 The show will see the British bodybuilder display six vehicles from its diverse product portfolio, including examples from all four of its UK truck, trailer and van manufacturing sites.
Included will be a Mercedes MWB Sprinter with a Paneltex Somers refrigerated panel van conversion, an 11m refrigerated trailer, two refrigerated rigid box bodied trucks and a Paneltex Transload bodied Luton van.
Completing the line-up is a home delivery van from times past, which will demonstrate just how small an urban delivery vehicle can be!
Chris Berridge, managing director at Paneltex, said: "2016 is a special year for us as we reach the milestone of 25 years successful manufacturing within the commercial vehicle industry. Our display in the heart of the Cool Pavilion will demonstrate the varied and interesting selection of refrigerated and non-refrigerated vehicle bodies that certainly showcases our position as one of the U.K.'s leading specialist commercial vehicle bodybuilders."