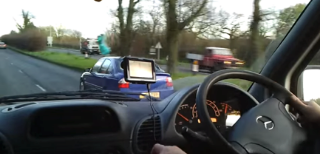 Despite commercial vehicle drivers being heavily criticised, the research by Intelligent Car Leasing – which coincides with the launch of its new commercial vans section – indicates that car drivers aren't blameless and includes additional comment from Guardian Removals which uses vans on a daily basis in their operations.
1. Car drivers who overtake vans and then slow down in front
"We've definitely noticed this. And while I can see how this can be frustrating (and it often frustrates us), I can also understand why drivers often do this. Although our vans aren't massive, they could still potentially obstruct the view of the drivers behind us. But overtaking doesn't really solve their problem; it just means that our van is now on their tail, which for many drivers is equally distressing."
2. Car drivers tailgating vans on roads with no overtaking lane
"Drivers that are happy to sit in our blind spot aren't just putting themselves in danger, they're also endangering our drivers. For many van drivers, this would be a signal to speed up. But as a removals company we often have valuable items in our van which means we tend to drive slowly. Driving close to the rear of our van doesn't make us speed up, and drivers are putting themselves at risk when they do this. Our vans are plastered with our company branding and logos, so we don't want to be seen speeding or driving too fast when we have items in our vehicles."
3. Car drivers thinking their vehicle is much wider than it is
"Driving a van requires patience and skill, and trying to navigate round a city centre in a van can be daunting for amateurs. But our vans aren't much bigger than many modern cars, and we have no problem getting down the same roads and streets that other drivers do.
"I do think there is also a feeling of indestructibility in a van; you're much higher up than most other drivers, and you're willing to give anything a go, safe in the knowledge that most other drivers will let you through. I suppose you could almost describe it as a sort of arrogance!"
4. Parking a car over two spaces
"Trying to find a parking space is frustrating enough without having to drive past cars that are taking up more than their fair share of space. Plus, we've got heavy items to carry into houses – the last thing we need is to be parked round halfway up the street
"However, I will concede that van drivers can be just as bad for taking up two spaces, but it could be argued that their size warrants the space. Better to have a van safely taking up two spaces rather than squeezing into a tiny space that could damage the vehicle or surrounding vehicles."