Road Test: Vauxhall Corsavan
MODEL: Vauxhall Corsavan Sportive 1.3CDTi S/S
SECTOR: Car-derived vans
LOAD VOLUME: 0.92m3
GVW: 1,695kg
POWER: 95hp @ 3,750rpm
The compact car‐derived market is something of a niche these days, with Vauxhall and Ford the main contenders, offering Corsavan and Fiesta Van respectively. For those that want a small van that literally drives like a car though, these compact LCVs remain an attractive proposition.
The fifth generation Corsavan has moved the game forward again, adopting a host of new technologies from Vauxhall's car range. Despite the additional weight imposed by Euro 6 engines, the van also promises lower fuel consumption and emissions, with increased carrying capacity.
The most efficient ecoFLEX models are said to be good for an incredible 88.3mpg, while even this range‐topping Sportive van posts a combined fuel figure of 74.3mpg. CO2 emissions are a credible 101g/km, dropping to just 84g/km for the ecoFLEX model.
What's more, those figures actually seem to be quite achievable. In general everyday driving, including a mix of local mileage and higher speed motorway work, the Corsavan delivered a very frugal 65mpg, thanks in part to a very active standard Start/Stop system. A bit of light‐footed eco driving would easily have seen that rise into the low 70s.
It's a very pleasant van to drive too. The 1.3‐litre diesel engine pushes out a spirited 95hp, with 210Nm of torque to keep things moving. Unlike lesser models you get six gears in the manual box with the Sportive, which makes for both rapid acceleration and relaxed cruising.
You would expect such a compact van to be nippy in town and it doesn't disappoint, darting for gaps in the traffic at every opportunity. What was less expected was its long distance comfort and the relatively smooth ride, even when unladen.
As befitting its status in the range, the increasingly popular Sportive model comes packed with equipment, though even the base model is packed with useful tech. A heated windscreen, auto wipers and lights, electric windows and heated door mirrors, air‐con, cruise control, sports seats, LED daytime running lights, 16‐inch alloys, ESP, Hill Start Assist, six airbags, Bluetooth streaming, DAB, the list goes on.
Our test van was also equipped with Vauxhall's Intellilink infotainment system (£750), that lets you connect to your Apple or Android smartphone and use a range of apps directly from the touchscreen. This replaces a built‐in sat nav, as long as you have the necessary smartphone to work with the van.
The only slight negative in the cab was the red and piano black dash, that comes as part of the Sportive pack. It is both reflec‐ tive in strong sunlight and a magnet for sticky fingerprints.
Despite all of the additional gear that comes with this latest generation Corsavan, the compact Vauxhall retains a very useful 543kg payload in Sportive trim. There is 0.92m3 of load volume on offer too, with a surprisingly useful load area length of 1,257mm to the half height bulkhead. The load area is also relatively easy to access.
Corsavan accounts for around 7.4% of Vaux‐ hall's UK van sales, with 2,400 of the compact LCVs sold in 2014. It's easy to see why 64% of those sales are to retail customers.
What we think
Most fleets will probably head towards a high cube design, even at this light weight. But for those who put more emphasis on the driving experience, Corsa- van has much to offer.
Road Test: Vauxhall Corsavan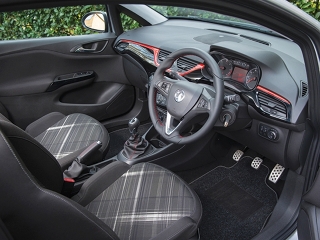 While many manufacturers have moved away from direct car-derived vans in favour of high cube models that use car drivelines, Vauxhall continues to sell the compact Corsavan. The fifth generation of this compact LCV (in truth the first model was known as a Nova rather than a Corsa) picks up where the last left off, but with cleaner engines, an improved cab environment and increased carrying capacity.
Vauxhall sold 2,400 Corsavans in the UK last year, the model's strongest performance since 200 and worth 7.4% of the firm's overall LCV sales. More than 34,000 of the last model found buyers in total, with 64% going to retail and 38% to fleet buyers.
While Corsavan, like the similarly designed Fiesta Van, benefits from the latest technology that is seen in the car market, it is also compromised in body shape and size by the car on which it is based. Few customers will buy a Corsavan for ultimate load hauling ability, however Vauxhall has managed to increase an already class-leading payload to a maximum of 571kg, despite the additional weight of new technology.
There are no less than four engine/gearbox options available, again made possible by the fact that the car range already offers these variants. The three 1.3CDTi diesels will prove the most popular, though Vauxhall is offering a 1.2-litre petrol engine, for those customers with concerns over the efficiency of DPFs in inner city driving.
All of the Euro 6 diesels have Start/Stop, with the most popular 75hp engine boasting up to 72.4mpg and CO2 emissions as low as 102g/km. The 95hp engine can be had in two models, with a five-speed gearbox in the ecoFLEX van, delivering 85.6mpg and 87g/km and with six forward gears in the Sportive, boasting 74.3mpg and 101g/km.
A comprehensive standard specification includes ESP Plus stability control, with straight line stability control, cornering brake control, drag torque control, brake assist, active rollover protection and hill start assist.
Corsavan also has six airbags, one-touch electric windows, electric door mirrors, Bluetooth, DAB, tyre pressure monitoring and speed-sensitive steering with a City Mode that lightens the wheel further for easy parking.
The increasingly popular Sportive trim costs £1,000 over the standard 95hp model, adding air conditioning, metallic or pearlescent paint, 16-inch alloys, a heated windscreen, sports seats, a leather-wrapped steering wheel with audio controls, cruise control, auto lights and wipers, heated mirrors and front fogs.
The new model has taken a big step forward in terms of comfort, with very low noise levels and a reach and rake adjustable steering wheel. Both the ecoFLEX and Sportive models performed well on a mix of roads, though there was little chance to try out the sixth gear that comes with the sportier model. No doubt regular motorway work would reveal a more relaxed cruise with the higher ratio.
Service intervals are 20,000 miles/one year and the warranty is 60,000 miles/three years. The van can be had with Vauxhall's four year 0% finance offer that includes roadside assistance, servicing and extended warranty. Diesel Corsavan prices start at £13,108 for the 75hp van, rising to £14,558 for Sportive.
What we think
New Corsavan is a stylish compact load carrier with a range of drivelines and high specification. If you don't require ultimate carrying capacity, there's a lot to recommend it.
Specification
MODEL                       Vauxhall Corsavan Sportive 1.3CDTi     
BASIC PRICE                £14,558
ENGINE                         4-cyl/1,248cc
FUEL INJECTION       Common-rail
POWER                      95hp @ 3,750rpm
TORQUE                     210Nm @ 1,500–3,000rpm          
Weights (kg)
GVW                           1,720
KERB WEIGHT          1,177
PAYLOAD                   543
MAX TRAILER WEIGHT       1,250
Dimensions (mm)
LOAD SPACE LENGTH          1,257
LOAD SPACE WIDTH                        1,264
LOAD SPACE HEIGHT           921
LOAD VOLUME                      0.92m3 
Cost considerations 
COMBINED CO2/MPG           101g/km/74.3 mpg    
OIL CHANGE                          1 yr/20,000 miles
WARRANTY                           3 yr/60,000 miles